To  travel the Great Alpine Road is a unique experience as it winds its way over 300km  from the mountains to the sea.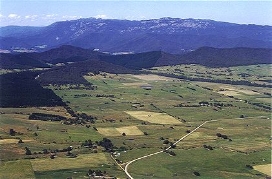 At  Ovens, just 5km from Myrtleford, is the exit to Route C534 for Rosewhite,  Mount Beauty and Falls Creek.
This road  traverses the length of Happy Valley, which until now has kept its secrets pretty  much to itself. But no longer!
Here,  you'll find two cosy B&Bs, a venerable country pub oozing warmth and good  cheer, a boutique winery producing classic cool-climate wines, a lavender farm  offering oils and other natural products, plus an experienced aviator happy to  fly you over the beautiful 'High Country'.
A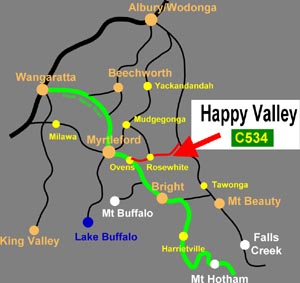 quick glance at the map shows that Happy Valley is right in the middle of the  alpine region. The 'Murray to the Mountains Rail Trail' passes close by, and it's  just a short drive to Beechworth, Bright, Milawa, the Mount Buffalo National Park  and the snowfields at Falls Creek and Mount Hotham.
We'd  love to share our secrets with you, so feel free to visit – you'll be made most  welcome! After all, with a name like Happy Valley, what else could you expect?