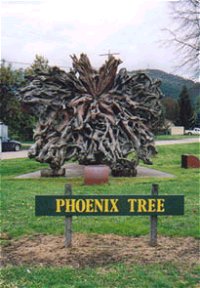 Myrtleford is a town with a rich history of gold mining and hops and tobacco growing. Timber harvesting, grape growing and winemaking, and the dairy industry now sustain the economy.
Note: Tobacco is no longer grow in Australia but if you would like information on its history in the valley Click Here
In Myrtleford Visit the Big Tree, a huge ancient Red Gum in Smith Street, then go on to see the Phoenix Tree, sculptured by Hans Knorr on the Great Alpine Road just past the Prince Street corner.
Visit the historic Tobacco Kiln at the Rotary Park on the Great Alpine Road.
Cycle the popular Rail Trail all the way from Myrtleford to Bright.
Visit the Old School Museum in Elgin St.
Drive to Town Lookout via Standish Streed and Halls Road or walk, by taking the track from Jones Park or Elgin Street.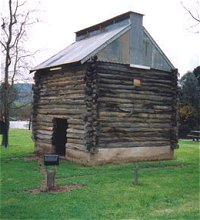 See the Linden Tree, one of Germany,s beautiful street trees. This fine specimen is reputed to be well over 100 years of age and is situated beside the Historic House in Albert Street.
Visit Cundy Park fenced-in infants playground. Also other playground equipment, plus barbecue, toilets and skateboard rink.
Walk through town from the Tennis Courts to the picturesque swing bridge along the banks of Myrtle Creek.
Fish in season, you may catch a trout.
Walk from the swing bridge to Jaycees Park and view the old agricultural machinery on display.
Picnic in the town centre at Jubilee Park, or at Rotary Park on the Barwidgee Creek where there are barbecues, swimming, playground and toilet facilities.
Swim in the Ovens River at the Nimmo Bridge using the Apex Park changing and barbecue facilities, or use the Council swimming pool by the Caravan Park.
HALF-DAY TRIPS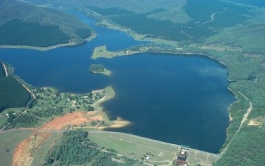 Visit one of the many wineries for information and samples of Alpine and King Valley wines. These include Michelini Wines, Boynton.s Winery, Rosewhite Winery and Gapsted Winery.
Visit the historic Merriang Homestead.
Water ski, fish or swim on Lake Buffalo.
Visit the Wombi Toy Factory at Whorouly South where all traditional style toys and furniture are made from plantation pine.
Picnic at Nug-Nug Reservation and then visit Lake Buffalo, a manmade picturesque lake with facilities for picnics, boating, swimming and water skiing. Good fishing as well.
History of tobaco Production in Myrtleford.

In Victoria, tobacco was grown along the river valleys of the Ovens, King and Kiewa Rivers and their tributaries in North East Victoria. It was a major crop grown in the Myrtleford area for many years
{youtube}59XvjlWed7E{/youtube}