(Easy – 1.6km; 45 mins (long), 0.5km; 15 mins (short))
Muse over the lifestyle and hard work of the town's pioneers and gold miners as you peruse the waterwheel and log wagon in Pioneer Park before sauntering along the burbling East Branch of the Ovens River. The dredging operations altered the natural course of the river.
V – Start at he Museum in Pioneer Park. For a short loop, cross the small footbridge to Feathertop Lane and return along the Great Alpine Road. For a longer loop continue along the river to Bon Accord Track then follow this road to the Great Alpine Road and back to Pioneer Park.


(Easy – 1.4km; 30mins)
Marvel at the Tronoh Dredge Hole and enjoy the waterfall and pine forest. The Tronoh was one of the world's largeset electric powered mechanical dredges, larger than the MCG. This dredge hole was created as a turning area due to a rock bank for the 170 metres long Tronoh. The dredge worked 24 hours a day, 6 days a week between 1946 and 1954. It dredged 156ha of land on the river flats up to a depth of 40 metres.
As you can see, gold dredging operations in the past were not required to repair the damage they caused. Pines were planted to reclaim some of the dredge tailings.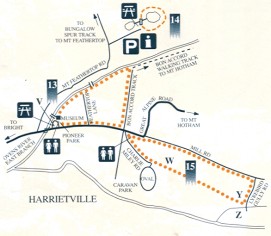 (Easy – 3km;1 hour return)
Experience th esights, sounds and aromas of the eucalypt forest and river. The walking track heads off from Charlie Miley Road (named after a world champion axeman from Harrietville) in Clarrie Keating Memorial Park. Note the scenically located football oval.
W – The walking track starts at the end of Charlie Miley Road, and is flanked by ribble from Chinese gold diggings.
Y – When you reach ths small bridge, complete a loop by turnuing left into Lyrebird Gully and then into Mill Road (once the Town centre), or return the way you came.
Z – Private property ( do not cross the bridge).